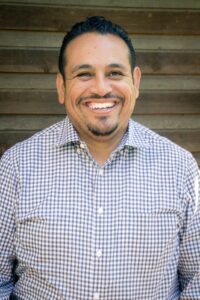 Moises Roman
Executive Director mroman@berkeley.edu

With a career spanning 31 years in the field of early education, Moises remains a steadfast advocate for both children and professionals in the field of early childhood education. Actively engaged in the early childhood education community, Moises has contributed significantly as Vice President and Member-at-Large for the state board of the California Association for the Education of Young Children (CAEYC). His commitment extends to conducting workshops at national, state, and local conferences, covering diverse topics such as Science for Young Children, Teachers Matter, Men in Education, and Teachers as Researchers.
Moises's impact extends beyond his immediate role within ECEP. He co-authored the book Preschool Pathways to Science; Facilitating Scientific Ways of Thinking, Talking, Doing, and Understanding; and served as an educational consultant to a number of PBS & Jim Henson Company's programs, including: the PBS award-winning nationwide series "A Place of Our Own and its Spanish language counterpart Los Niños en Su Casa", "Sid the Science Kid", "Dinosaur Train", "Splash and Bubbles," and upcoming series in development.
His other affiliations include the Heads Up! Reading Program, where he was featured as an exemplary classroom teacher early in his career and NAEYC's Men in Education Forum, where he facilitated meetings and events for men at the national level. Moises also served on the California Early Childhood Mentorship Committee for Santa Monica College and serves as an advisor to the California Department of Education/Child Development Division California Faculty Initiative Project among other volunteer positions.
As a lifelong learner, Moises continues to enhance his knowledge through ongoing training and courses related to children and their development. He holds a Master's Degree in Human Development from Pacific Oaks College in Pasadena, a testament to his dedication to the field of early childhood education.