UC Berkeley values access to education as part of its mission.
"My daughter LOVES her teachers, and they clearly know and love her. She feels safe there, she is safe there, she is excited and happy to go to school at ECEP."
– ECEP Parent
The ECEP serves children of UC Berkeley students, faculty, and staff, as well as community members, in five centers in Berkeley and Albany. All parents who are interested are encouraged to apply.
Highlights
Applications are accepted year-round.
We offer spaces as they become available throughout the year.
The majority of spaces become available at the beginning of the fall semester.
The acceptance process for fall spaces begins in January.
A limited number of subsidized spaces are available for UC Berkeley student parents and other income-eligible families.
Application
ECEP has limited spaces available each school year. ECEP accepts applications on a continuous basis. Contact us at moreida@berkeley.edu or 510-642-1827 to find out if spaces are available for your child's age group. Please use the respective application according to your eligibility.
Staff, Faculty, Visiting Scholars, LBNL and Community
Full Tuition (Online application, application fee applies)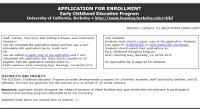 Income-Eligible: Families and UCB Student Parents
Subsidized Tuition (PDF application, no application fee)
Note: In order to qualify for subidized tuition your family's gross annual income must be less than 85% of the State Median Income. Check if your family qualifies here.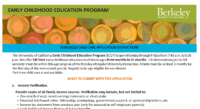 UCB Student Parents
Full Tuition (PDF application, no application fee)